Space Coast Fury- Sharing Center Food Donation Drop Off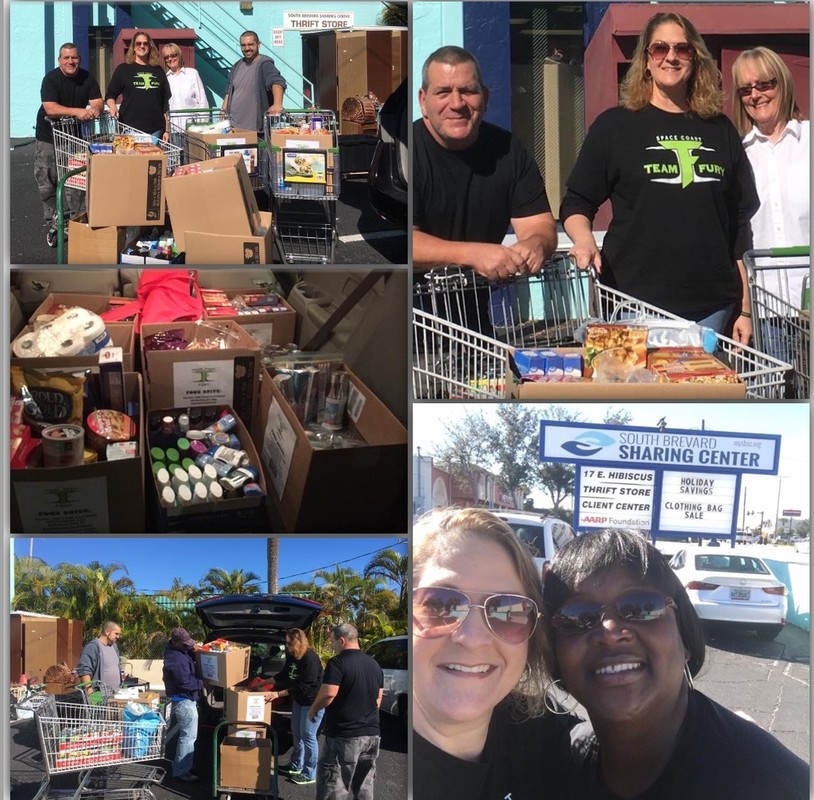 A huge THANK YOU to all of my FURY players and families that worked hard and pitched in for our November Community Service Food Drive Event. Also, thank you to the community for pulling together and reaching out to us for pick ups, because of your generosity this was a huge success. Because this was a community effort and everyone used their resources of social media, church, neighbors, and friends we even had families send monetary gifts to put towards the food donations.
Thank you Corey Williams and his team Space Coast Stars for making this a combining effort with your donations- much appreciated! Together we are reaching out to many families and making a difference in our community and the youth of today, one day at a time.
Our November contribution went to the South Brevard Sharing Center and just in time for the Thanksgiving Holiday. Space Coast Fury (SCF) was able to fill 3 full shopping carts and a flat bed cart full of non perishable food, toiletries, baby food, and cleaning supplies for the Brevard County families in need. With a combined effort of the surronding neighbors, we were able to make 55 hygiene bags of shampoo, conditioner, soap, toothpaste, and toothbrushes for the Sharing Center. As a team, we decided we are going to collect these all thru the year and continue this effort of creating the hygiene bags- it is a much needed item. Please hold on to your travel size items and donate to a good cause.
All of us at SCF is very passionate about our GIVE BACK PROGRAM and very excited about our upcoming events in December.
We always welcome businesses to become Sponsors for our causes so please contact us if you are interested in joining us and changing lives one day at a time. Basketball is our foundation and our Family Unity continues to be our growing success.
Thank you,
Jeannie Hoffhine
President of Space Coast Fury
---
View All News